Prof. Dr. SERGEY V. ZAGRAEVSKY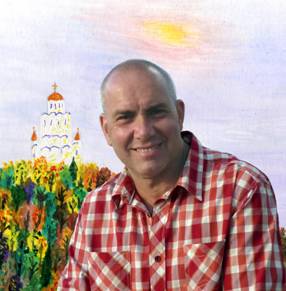 "Laziness is a luxury that we can not afford"
(Sergey Zagraevsky. 365 reflections on a human and humanity)
Prof. Dr. Sergey Zagraevsky was born in Moscow on August 20, 1964. His father was Wolfgang Kawelmacher, a leading scientist if history of ancient Russian architecture, and Inna Zagraevsky, a poet and dramatist. Sergey got his painting education in the private studio of Tatiana Mavrina, a well-known Russian painter.
Till the middle of 1990s Sergey Zagraevsky engaged himself in science (problems of system analysis) in parallel with arts. In that decade Dr. Zagraevsky became also a professional historian of architecture and theologian.
All that time Sergey Zagraevsky did not stop painting. In the middle of the 1990s the famous Russian poet Bulat Okudzhava wrote about him:
Tomorrow there is one to drink Whisky with,
To remember about Eternal Arts.
That is the most Spring Naivist,
Sergey Zagraevsky that is.
When he moves on a picture his fist,
God is at his assist.
God is with him all his way.
That is the painter Sergey.
In 1998 Sergey Zagraevsky completely devoted himself to arts, humanities and public activities. In 1999 he was elected the chairman of Artists Trade Union of Russia, one of the most authoritative artists' organization in Russia, and holds this post up to nowadays.
Painter Zagraevsky held in Moscow more than ten personal exhibitions (including Manezh and Central House of Artist) and took part in tens of group ones. There are his works in State Tretyakov Gallery, State Russian Museum, many other museums and private collections.
In 2002–2005 Prof. Dr. Zagraevsky gave lectures in the Moscow Institute of Restoration Arts, now he gives lections in the Russian University of Intellectual Property and in Vladimir-Souzdal Museum. The main themes of his architecture history researches are Ancient Russian white-stone buildings, early architecture of Moscow, architecture connections between ancient Russia and Romanic-Gothic Europe. His Ph.D. dissertation was devoted to North-Eastern Russian architecture of the end of 13th – first third of 14th century.
He is the chief editor of the reference book "United Artists Rating", the author of a number of books on philosophy, theology and history of architecture, some tales for children, many articles on art critics and history of architecture. He is the founder and curator of "RusArch" – the electronic scientific library on history of ancient Russian architecture.
Sergey Zagraevsky is a Honored culture worker of Russia (since 2009), Professor (since 2005), Ph. D. in architecture (since 2004), Ph. D. in technique (since 1992), chairman of Artists Trade Union of Russia (since 1999), full member of Russian Art critics Academy (since 2001), member of AICA (since 2004), member of Writers union of Russia (since 2001).
He has 4 children: Sergey (born 1986), Anastasia (born 1992), Lidia (born 1997), Cyril (born 2009).
Speaks Russian (native), English (fluent), Hebrew, German, Esperanto, French – medium level.
Prof. Dr. Sergey V. Zagraevsky's bibliography