Sergey Zagraevsky
Cyril's tales about Moscow
Published in Russian: Ñåðãåé Çàãðàåâñêèé. Êèðþøèíû ñêàçêè î Ìîñêâå. Ì., 2014. ISBN 978-5-93381-323-1
Attention!
The following text was translated from the Russian original by the computer program
and has not yet been edited.
So it can be used only for general introduction.
Annotation
Kirill is a little boy, the son of artist Sergey Zagraevsky. Kirill loves to write stories, and now, walking with dad in Moscow, he decided each month to come up on the story about this beautiful city. Just fairy tales turned twelve. And each Kiryushina tale of his father wrote on the picture is in the same joyful, warm and bright design of children's drawings.
The book is intended for children of preschool age.
Moscow, 2013.
The book is published in 2014 publishing house "BSG-Press", Moscow.
ISBN 978-5-93381-323-1
Buy the book in the Internet-shop
I am an artist Sergey Zagraevsky. And Kirill is my son. He is still very young, the same as you, my dear children. And, like you, who dream of becoming an adult. Even when asked his name, he is responsible not "Kirill"and "Kirill".
When I paint pictures, he loves to watch and ask any questions, it is no wonder that kids often call "pochemuchka". Some adults even annoyed by endless baby why, and I, on the contrary, it is like. I always answer the questions of Kirishi and try to ensure that he understood everything.
And so he asked me why my paintings are bright and joyous. I replied that draw warm and kind fairy-tale world, because I'm such a person: see around yourself first of all good.
Then Kirill said that he would like to write stories. And I suggested to him, as we often walk in Moscow, coming to the point about which I have written paintings, and come up with a fairy tale about Kirill and our city. And if we will do this every month, we have for the year are the twelve tales.
- And why twelve? asked Kirill.
Because a year has twelve months, " I replied. "You taught their names, the list itself!
Kirill started to list, but somewhere in the middle outta and said:
- Let's wait for the meeting with the tale, and then remember, as called months!
So we decided. And in the beginning of the year went to compose the first tale.
January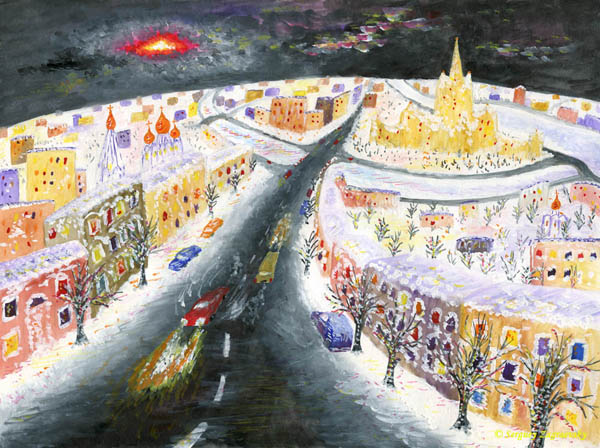 It gets dark early in the winter, but Moscow has always brightly lit. We Kirill went on the old Moscow street - Solyanka, looked around, and he asked me a question:
- Dad, and houses with each other talking to?
- In fairy tales - of course, Yes.
"Then let's think of the tale, as these small houses they say out with the huge high-rise building.
- Well, invent, invent! "I say. - I sure don't want you to think! It's your stories!
And this is what Kirill invented.
New high-rise building is a large and beautiful, but some are not very good. And the old houses - the good, and they want, and high-rise was also good.
And he said to them:
"I don't want to be like you because you are old, people live inside you uncomfortable...
And so they talked, and nobody each other to convince could not. And then Kirill said to them:
"Come for a picture of my dad! There you all will be good and comfortable, and anyone who looks at the picture, you will understand that in Moscow to live well everywhere - both new and old, large and small houses!
So all those houses did. And now even in the coldest January they cosy and warm.
February
When we Kirill came to Red square, he first asked her once why:
- Why the area is called the red?
I explained that this square - the old, and in old Russia the word "red" meant "beautiful".
Kirill says:
"No, it's Red, because it has a big red wall!
I did not argue, because in childhood also thought the Red square is so named because of the red-brick Kremlin wall.
And here it began to snow. And Kirill said:
- Snow also seemed to be red, because through it visible to the wall!
He really liked the winter Red square. And the tale of course, he wrote about her.
February. The snow is falling, falling snowflakes. All of them were pure white. And somehow it became boring to be only white, and they decided to become colored.
One snowflake fell into the river and turned blue.
The other on the street lamp and turned yellow.
The third is on the dome of the Church and became Golden.
The fourth is on the tree and turned green.
And the fifth to the Red square and was, of course, red.
And it did snow such as in the works of my father, bright and colorful!
March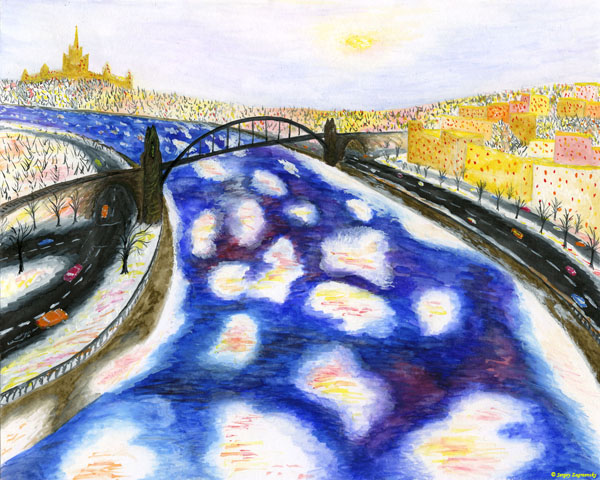 Finally, and spring. And rivers began drifting ice - when the ice melts, crack, and blocks of ice floating down the stream.
We Kirill stood on Berezhkovskaya embankment and looked at break-up. Kirill, of course, asked her "why": I wanted to know what the ice, and if the ice is frozen water, why the water is liquid, and solid ice. And yet he was very interested in where breakup of the ice. I explained that they float downstream, from Moscow-river fall into the Oka river, then to the Volga river, then - into the Caspian sea.
Kirill still does not know where is the Caspian sea, so he told that's what fairy tale:
In March, on the Moscow river floating ice, lots of ice. Sailing, pushing, no one wants to miss another forward, and offended each other. And Kirill says to them:
- You have to be polite! My dad always taught that if you walk in the door, then skip ahead mother and grandmother, and all the adults!
And the ice it answer:
- Kirill, so we try to do, even if only miss each other, still pushing. Don't know why?
Kirill says:
- Well, how do you not understand that you are many, and the river is narrow. Here will be even warmer, you will amenities, and then stop pushing, and you will be spacious!
"Thanks, Kirill, we got it, " said ice. - Now we are not going at each other to be offended, but simply sail in the Caspian sea.
- And where is the sea? asked Kirill.
"We also still don't know about to sail and learn!
April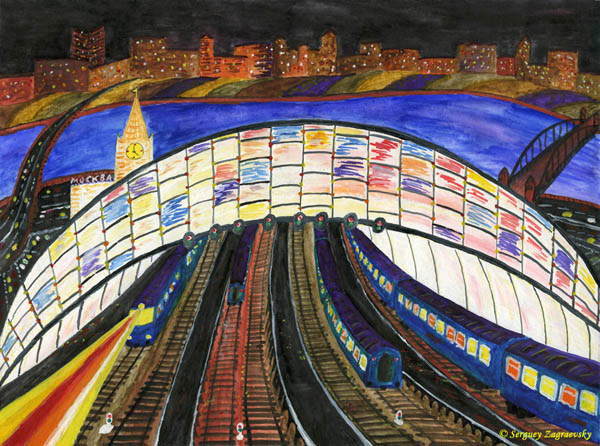 Kirill loves trains. When we are in our summer house in Abramtsevo, it is long standing, train station and watches as they pass by. And when we come with him to the Kiev station, he has a right scattered eyes: how many different trains leaving on a long journey!
- And why on trains such a huge glass roof? - it was another "why".
- It is needed to protect from rain and snow.
And Kirill said:
- And how it is beautiful, when the train is colored glass the sky!
And wrote a story about trains.
Trains are different. Dad told me that there are passenger and commodity, there suburban and long-distance. And they go right on schedule, so that all the passengers knew when does the train, and was not late.
There was a train. It was boring to go slowly and stop at each station, he wanted to race quickly. And so he accelerated and violated the schedule. And all of it is criticized, but it wouldn't help it could not.
And in April he arrives at the Kiev station, and Kirill said to him:
- Let you call beautiful word "Express", and you can not stop at every station, and only to the largest. And will go much faster. And your passengers will be able not to miss.
And this train was the Express and was worn on the rails, joyful shining the spotlight.
May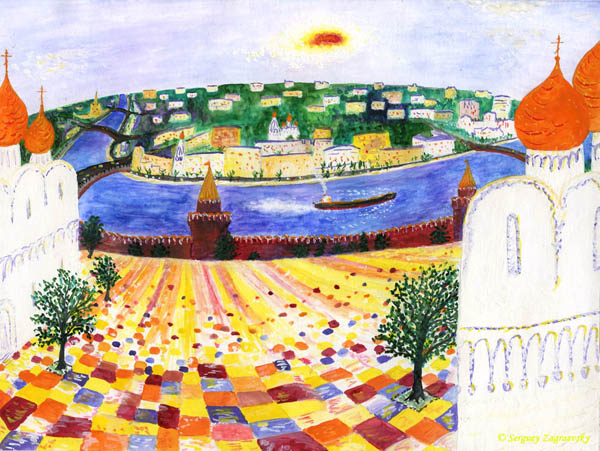 We Kirill took a long walk across the Moscow Kremlin, and he was tired, because we visited all the churches. In such cases, I put him on his shoulders. And here we are on the Cathedral square, look at the view Zamoskvorechye, he sits on my shoulders and says:
- Dad, I wish you are not so high as the bell tower of Ivan the Great, then I would see even further than it is now.
I told him:
"You have not forgotten what we came here not only to look at the view, but that you invented a tale?
He didn't have to think: story was, of course, about us and the bell tower.
My dad high, but always wanted to be even higher. But I didn't know how to do it. And then there was me. And when he put me on his shoulders, then turned so we separately is not very high, and together is much higher.
But the bell tower is still higher. And I thought that if we are going to go up to the bell tower, you will generally above all. Only it is a pity that we will not be able to go because of the bell tower't move.
But I think the story, and let it belfry go for a walk with us in Moscow. We then top will know better how beautiful our city in may - as in the works of my father!
June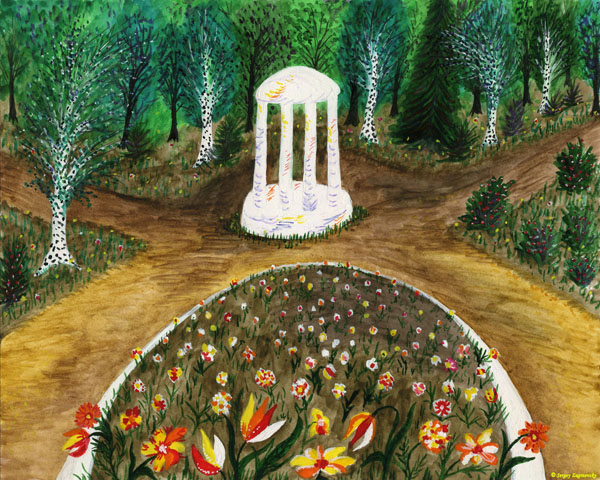 Old Neskuchny garden... flower-Beds, paths, benches, green trees... We Kirill love nature and fresh air, and it is a pleasure it is to sit together in a large white garden gazebo and listen to new Kiryushina tale.
In Neskuchny garden was lots and lots of flowers - roses, asters, and forget-me-nots, and petunias... And among them one flower was magic: the one who will find it and tear, he will do the most important thing is the desire.
And that's one summer, in June, Kirill found this flower and began to think, what to think. But couldn't think of anything, except that my dad bought him a "cock" - the Lollipop. Of course, Kirill it seemed that such a desire is not very serious, but "Cockerel" also wanted. And then he was led to this flower is my dad and asked, what better than to guess.
Dad smiled and said that "the cock" and so he will buy Kirill, and the flower is better not to break.
- Why? asked Kirill.
- Because in the flower beds Smoking to pick flowers, even if they are magical.
So this flower grows in Neskuchny garden.
July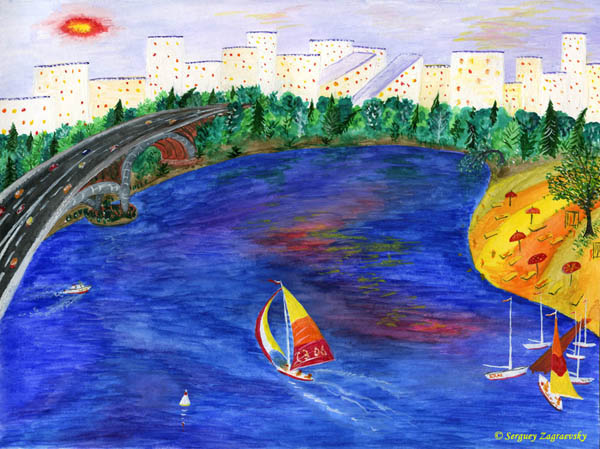 Sea far from Moscow, but still there are many beaches, and in the summer in good weather there where the sun. And here we are with Kirill long time went and came in Strogino, where huge modern homes side by side with the bays of the Moscow river and wooded Islands. Bathed, sat down in the shade of the umbrella, and Kirill asked new "why":
- Why Moscow is such a large city?
Because he appeared a long time ago and has been growing too long, that's grown so big.
And when Moscow appeared, I was not yet?
- Of course, was not.
- And you, father, has already been?
- And I was not.
- A mother?
And my mother was not there.
- A grandmother?
Understanding, that Kirill will start to list all of my family, I said:
"You still will not be able to understand how long did the Moscow, for this you need to grow and learn. Then you will know what time, and how long the life of the city in comparison with ours. And while it is better think up a story.
And it turned out that Kirill, while asking questions, invented the tale. And immediately told:
The city of Moscow is very old, older and Kirishi and the Pope, and even all the grandparents. But he still looks young. And when he was asked why he looks like, he is responsible:
- Because I have all beautiful and streets and houses, and rivers and beaches. And in July, and in January, and in all other months. And everyone who sees me, rejoice. Rejoice and I with them. And who is happy, he does not age.
August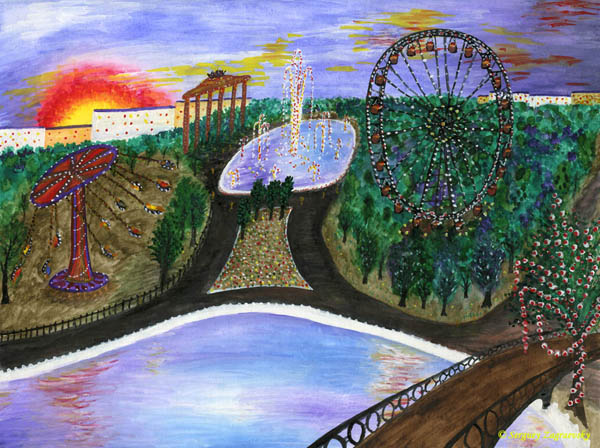 Of course, Kirill most of all love to walk in the parks, where you can go on the rides. He is not afraid to swing on the swings, ride the Ferris wheel," and even the "roller coaster". He was very brave boy, and loves to say: "Let the girls are afraid, and I'm not supposed".
And in August we came with him to the Gorky Park, he took a ride on the carousel, and then said:
"I don't want to write a story.
- Why?
- Because there's so good, why tale?
- The tale is still needed, " said I.
- Why?
- No tale life will be boring and uninteresting, even on the carousel is not so fun to whirl.
"Then, of course, the tale must be invented, said Kirill invented.
One day in August tale decided that you no longer need it to people, they so much more interesting. And went somewhere else.
And immediately all the colors faded, faded, the world became serious and strict as the grey suit the Pope, in which he goes to meetings. And all the people became ill. Even the kids got bored to ride on the carousel.
And then all the people got together and decided that we should call the tale ago. And once decided, the tale returned immediately as realized that need.
September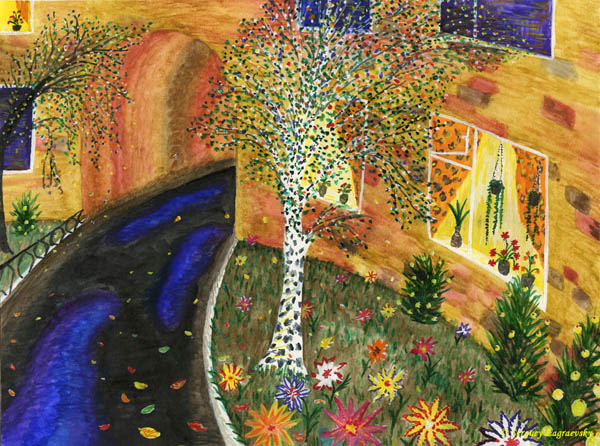 "Where are we going to visit today? asked Kirill. Already in September, we need a new tale to compose.
- And nowhere. Let's walk around our yard. This is our home, about him, too, need tale.
And while we wandered on to the familiar to me from childhood court on Shabolovka, Kirill invented a tale.
In September, very good weather, and Kirill with dad often walk in the yard. It seems that there are all familiar. But in fact, this court is not simple, and fabulous. There is such a corner, where to go - and you enter a totally different world. Live there all sorts of fairy-tale characters - Ivan-Tsarevitch, Vasilisa the wise, Koschey the Immortal, Baba Yaga, the wizard Merlin, cat scientist and many others. It is only necessary to find the corner. So far, Kiril't do it, but maybe someday it will.
In the meantime, Kirill simply read tales of the house - about Ivan Tsarevich, and about Vasilisa the Wise, and about Baba Yaga, and about Winnie the Poohand all-all-all.
October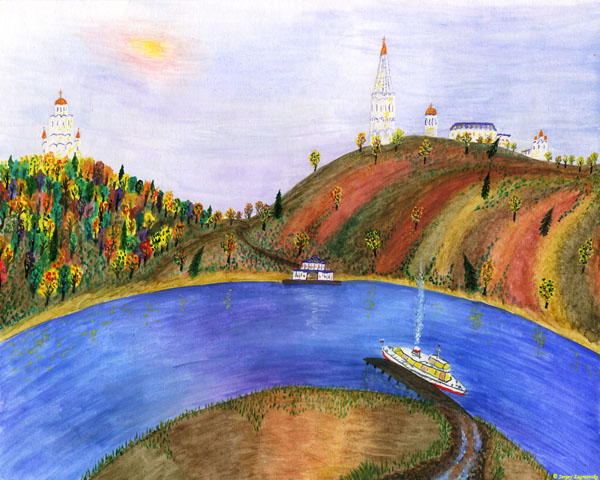 Royal manor Kolomenskoe is one of the most beautiful places of Moscow. Over the river towering snow-white churches, and in the autumn of their Golden domes coexist with Golden leaves. Here seem to plunge into a fairy tale, a tale filled all around.
But Kirill still decided to come up with something different. But first asked me:
- And these the Church of the old?
- Yes, of course.
"Then, daddy, listen to the tale.
Churches are many, many years. And the foliage grows up and down with each year. And somehow in the autumn, in October, one leaf said to the churches:
- I don't want to fall, I want to always remain on the tree and look at you, you are so beautiful.
But soon the same winter, " said Church. "If you stay on the tree, then freeze.
"I'd better freeze, looking at this beauty, than I will lie below the snow in heat, but in the dark where no one can see anything interesting.
And then one of the churches advised him:
"Look, yonder walking artist Sergey Zagraevsky with his son Kirill. Let the artist will draw you in his picture, and Kirill will think about you the tale. And it turns out that you will forever remain in its tree - if not in life, then in the picture and in the story.
And so it happened. And this piece now will never fall down.
November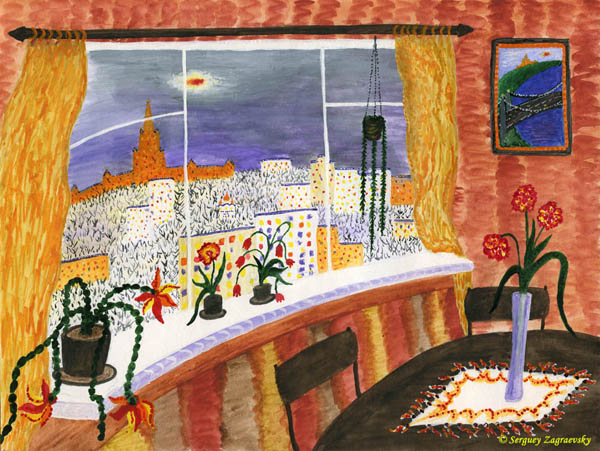 In November we Kirill came to my old friend Alexander. He lives on the top floor of a high-altitude house in Michurinsky Prospekt.
Kirill long stood at the window, then asked:
- Dad, and why uncle Sasha from the window is so much to see and we don't?
- Because we live on the first floor, and here the twentieth.
Kirill can count to twenty. He thought and continued to ask:
- And higher floors are?
- Of course there are. And thirties, and forties, and even higher.
- And where better to live on the ground, in the twenties or thirties?
- As you wish.
- I like we have on the ground.
"Why, Kirill?
"Because I live there. And high-high floors let them remain somewhere in fairy tales. In this, which I will now tell you and uncle Sasha.
Kirill lived on the first floor. But one day he wanted to live up to see all around.
And he asked a friend wizard to turn his house in tridtsatiletnej. The magician turned. We looked at Kirill around from this height, and then said to the wizard:
"Sorry, but I want to go back to the first floor. There near the window grows big tree, and shows every leaf, every branch. And at the height of the thirtieth floor something to me uncomfortable, as if all the time on the plane fly. I love airplanes, but to fly all the time gets boring.
And then a good magician returned Kirill on the first floor.
December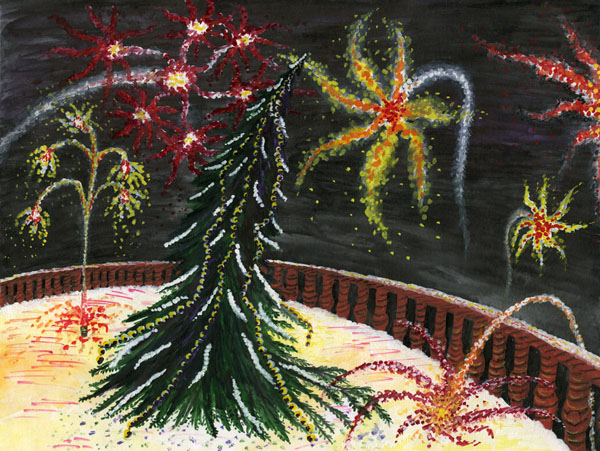 Soon The New Year. Throughout the city Christmas tree, all the Windows are decorated with Christmas decorations everywhere sell fireworks... ToAK not to love such a holiday? And when we Kirill came to the Observation platform of Sparrow hills, where there was a huge tree, he wrote not a simple tale, and the new year.
In the forests around Moscow there are many different animals. And foxes and wild boars and elks, hares and squirrels... NRishel December, and they all wanted to celebrate the New year is not as ever, and with a Christmas tree.
Trees in the forest a lot, and Christmas decorations - no. And now gathered animals and began to think to find toys. And I got the idea sent a bird-sinichka to Kirill. She knocked on the window and asked:
- Kirill will not do you share with us their Christmas decorations?
And Kirill not greedy, he's got a lot of toys, he certainly gave sinichka and balls and garlands. And shone a forest tree, the same set of lights, like a big tree on the Sparrow hills! And how much fun it was to animals led around the dance!
* * *
Here come the New Year. And the New Year - new stories. And each child can write them as Kirill. And don't forget, my dear children, that you can draw good and joyful pictures to their fairy tales!
© Sergey Zagraevsky