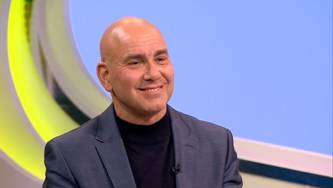 SERGEY ZAGRAEVSKY
ANSWERS TO FREQUENTLY ASKED QUESTIONS
Lately I had to give a lot of interviews about myself and my work, and there is a range of questions that are asked most often. So I thought: why not to respond to them in writing? Surely these answers may seem incomplete to someone, additional questions will likely arise, but the tradition of "frequently asked questions", almost unknown to us in Soviet time, has become ingrained in our lives. So why not to use it?
There is one more reason to write this "FAQ". In 2001, I published the book of memoirs "My 20th century". In it I fully described the life of my great-grandfathers, great-grandmothers, grandmothers, grandfathers, father and mother, and my own life – up to 2000. Since then many years have passed. It is not yet time to write the second volume of memoirs (God willing, I'll write it in future), but now it is possible to use the format of "frequently asked questions" and to describe briefly my current life and view of the world.
So, hello, dear "virtual interviewer", take a seat, make yourself comfortable, I am ready to answer all your questions no matter how sharp they are!
Question (usually asked first).
You are a versatile person, you have so many professions... Tell us about them.
Response.
What profession are you interested in? Which to begin with?
Question.
For a start, tell us about mathematics, your institute diploma is in this area, and then you worked at the applied mathematics chair...
Response.
To be exact, according to my diploma I'm not a mathematician, but a specialist in system analysis. This scientific discipline, fashionable at that time, studies and modelles "complex social and technical systems". In short, I am an expert in complex systems. My scientific achievements in this field never exceeded the average level of a Ph. D. (I spent only a few years at the applied mathematics chair of Moscow automobile and road institute and left it for business in the early nineties), but that profession gave me systematic approach to any occupation and ability to manage the systems of any degree of complexity. Very useful skill.
Question.
Then you were a businessman for a long time...
Response.
Not too long – also just a few years, but it was in "hot nineties", and one year could be counted for three, as in a war. Bandits, bribes, "black cash", bright red jackets, second-hand prestigious cars and other "business cards" of that time were not some action tale for me, but everyday reality. It is a separate topic how I found myself in business. I came from poor (even by Soviet standards) family, and when I got a chance to earn thick wads of money – I couldn't resist. It was something like an intoxication, and it lasted since 1992 till 1998. In the end, I was only an average businessman (the director of the subsidiary company of one of the largest Russian banks was my highest achievement in this area), I did not become an oligarch, and now I can confidently say: thank God that didn't.
I told in details about systems analysis and business in the book "My 20th century", at the time of that book writing both these periods of my life ended happily.
Question.
You have remembered about useful skills that left from system analysis. And from business?
Response.
I think that it is discipline (especially in financial matters) and ability to carry responsibility, in particular for words.
Question.
Tell us about extrasensory practice. Did you do it seriously?
Response.
Everything that I did in my life, I did seriously: I never had time for non-serious occupations. Extrasensory practice was an occupation that almost became a profession, and it was in the early nineties. I wrote in details about it in the book "My 20th century", and now can say just briefly: long ago I stopped practicing as an extrasensory master (that is a person who is able to control energy flows). By analogy with radar – I'm not in active, but in passive mode, i.e. can look at the world through the "extrasensory" eyes (in a certain mood I can see the flows of energy, auras, chakras etc.), but take no actions on the energy level. But since we speak about the useful skills each time, then I learnt above all to trust my intuition. And I must say that I've rarely been let down by it.
Question.
You once organized Artists trade union of Russia, the reference book "United Art Rating", electronic scientific library "Rusarch", "Art newspaper"... Is the organizer your profession too?
Response.
Perhaps it is just a way of life. I organize something all my life, it is absolutely natural for me. The main thing is not to get involved in this too much and not to produce non-viable (or even deadborn) projects, because active life position can be constructive and can be destructive. I try to avoid the second as possible.
Question.
And philosophy, and theology?
Response.
With formal point of view, it probably became my profession, because at the turn of millenium I wrote and published several books on christological theme. But it turned out so: I said everything I wanted to say about Jesus Christ, put forward my vision of his personality and teaching, and then stopped. Not that there was nothing more to say, but I wrote those books in some strange burst of inspiration (I mentioned it in the book "My 20th century"), and then the inspiration weakened naturally, and in the field of philosophy I did no "scientific work", i.e. communication with colleagues, tracking of the new researches, participation in conferences, publication of articles in digests, profile Ph. D. thesis defense etc. I'll explain why: around the same time I had to engage professionally into history of architecture, and had to choose. So chose the second.
Question.
And what useful skills remained from philosophy?
Response.
Philosophical view of the world. The system of spiritual values. Personal integrity. Very important things in life.
Question.
And why exactly did you "have to" engage into history of architecture?
Response.
Of course, no I was not directly obliged to do that, but it was my duty to father, Wolfgang Kawelmacher, a classic of history of ancient Russian architecture and restoration. He passed away in 2004, and the last few years of his life were overshadowed by the fact that one of his disciples put questioned his most important discovery – the Palace of Prince Vasily III in Alexandrovskaya Sloboda. And that disciple, being already a Professor and Ph. D., began to "press by reputation". And my father never got any academic degrees or titles, did not defend any thesis, and besides that, he had a very sharp and quarrelsome character, reacted strongly to any objections and looked a "black sheep" at all scientific discussions. Almost a harassment started against my father, other disciples also turned away from him, his name became concealed...
In that tragic for my father time – the late nineties – I already oriented in history of ancient Russian architecture on the level of "advanced amateur": I grew up near so great scientist as my father, and so learnt very much from him. And when my father was isolated (this isolation was doubly difficult for him, because the last years of his life he lived in Germany), I was to come to his aid. In early 2000-s our cooperation looked like this: I held researches (both at my own objects and some objects of the father), "promoted" and "defended" these researches in the scientific world, and the father was my scientific consultant.
So, "forcedly", I came to this field of science. Now I can proudly say that already almost no one questiones my father's discoveries in Alexandrov and his other no less brilliant scientific achievements, and certainly nobody is able to conceal his name. Plus to this I edited and published nearly all of his unfinished scientific works (including those which existed in the form of drafts), opened the Internet website dedicated to his memory, so, figuratively speaking, to the extent opportunities fulfilled my filial duty.
Question.
And can you briefly and clearly describe your own scientific achievements in history of architecture?
Response.
It's hard to do, since we are talking about specialized field of knowledge. But I'll try to. Professionals may be interested in it, and the rest can miss this list. So I hope that I managed:
– to clarify dates, original appearance and a number of other issues of architectural history of cathedrals – Assumtion in Vladimir, first Assumption (of Ivan Kalita) in Moscow, Saviour in Andronik monastery, Nativity of the Virgin in Suzdal, St. George in Yuryev-Polsky, St. Demetrius in Vladimir, Nativity of the Virgin in Bogolyubovo, Old St. Nicholas (Peter and Paul) in Mozhaysk, churches – Intercession on the Nerl, St. Trifon in Naprudnoe, St. Nicholas in Kamenskoye, John the Baptist on the Settlement in Kolomna, Nativity of the Virgin in Gorodnya, Boris and Gleb in Kideksha, Saviour in Vladimir, St. Nikon in Trinity-Sergius Lavra, Metropolitan Alexei (Crucifixion bell-tower) in Alexandrov, Golden gate in Vladimir;
– to reconstruct the process of white stone mining in pre-Mongol Vladimir-Suzdal;
– to show the incorrectness of the version of the advent of Yuri Dolgoruky's construction artel from Galicia and to identify immediate influence of Western European Romanesaque on the architecture of Jury Dolgoruky;
– to show the key role of Yuri Dolgoruky in the development of Romanesque in Russia;
– to show that white stone in architecture of Ancient Russia was not just construction material, but expressed state power and imperial ideology;
– to show that Romanesque Imperial Cathedral in German city of Speyer was the direct source of ancient Russian white stone architecture;
– to explore the issues of origin and building of the architect sent to Andrey Bogolyubsky by Emperor Frederick Barbarossa;
– to clarify the issues of reconstruction and dating of the palace-temple ensemble of Andrey Bogolyubsky in Bogolyubovo;
– to show the inapplicability of the method (popular in the late twentieth century) of usage of schemes of transition of construction cooperatives as a self-sufficient basis for the temples dating;
– to define Hellenism as the dominant aesthetic decor ideologeme of pre-Mongol Vladimir-Suzdal churches;
– to "shed light" on a number of specific features of Russian architecture of the end of XIII – beginning of XIV century, that traditionally was considered as "dark time";
– to determine the "limit of reliability" of old white-stone Russian church architecture;
– to allocate a number of characteristic features of old Russian architecture of the end of XIII – the first third of the XV century, allowing to call this era "Russian Gothic";
– to lead new architectural and archaeological data proving the dating of four ancient temples of Alexandrov Sloboda by 1510-s – the time of Vasily III;
– to identify Aleviz Novy as the likely author of the ancient temples of Alexandrov Sloboda;
– to bring additional arguments in favor of hip-roofed stone arcitecture origin from wood architecture;
– to trace the chain of "near" and "distant" grand-ducal and later royal manors of XVI century, from Ivan III to Boris Godunov;
– to show that bulbous shape church domes appeared in Ancient Russia for the first time in the world and were the most common already in the XIII century, and the helmet-like form appeared much later as "styling to the past";
– to explore issues of genesis of cross-like ceiling and to show that it was invented by ancient Russian masters;
– to define the universal (exclusively architectural) purpose of the chorus in the ancient temples;
– to show that in Ancient Russia the "defense" monasteries and temples were widespread.
– to work out typological classification of old Russian church architecture.
This is my personal opinion about my contribution to science. Someone, perhaps, will disagree with this list or complement it. But in general I can describe my research job in such a way: after retiring from the life of the titans of the "golden age" of history of ancient architecture, to whom my father belonged, there remained a few historians of the "old school". My father passed to me the main methodology of this school. I'm trying to adhere to it.
Question.
You've forgotten to mention among your scientific achievements that you are a Professor and Ph. D. in architecture, and also the full member of Russian Academy of Arts...
Response.
I don't consider as a scientific achievement that I'm a Professor and Ph. D.: it is rather an organizational achievement, not mine, but the deceased rector of the Institute of art of restoration Oleg Ivanovich Prutsin. In this institute in the beginning of 2000-s I led a special course on white-stone architecture for a few years for free, and he as a gratitude (agreed in advance) gave me a professorship, and then used his endless connections (in the Soviet he was a big restoration boss) and organized the defense of my doctoral thesis in architecture. It must have been difficult, because I had the institute diploma and had already been Ph. D. in another field of science (technique), but, however, formally relevant education was not necessary to protect doctoral thesis, and I satisfied the criterions of number and quality of scientific articles.
The same situation is with my membership in Russian Academy of Arts. Documents, elections, voices "pro" and "contra"… All that demanded serious organizational efforts, which were connected with science only relatively. What to do, such is our world.
Question.
But if you as an architectural historian follow in the footsteps of your father, then, as a writer, probably in your mother's footsteps? Inna Zagraevsky is a poet and playwrighter...
Response.
Formally this is so: we both are members of Writers Union of Russia. But in fact, writing was never self-sufficient for me, unlike my mother who did this her whole life as either the main or, at least, beloved profession.
My first children's book "Twelve months", which was released in the late nineties, was nothing more than detailed captions to my pictures. And when I began to write "full" tales, it primarily expressed my public position: I tried to promote the "eternal values" through the tales.
And my historical novels are written on the basis of my scientific research.
Question.
Your experience as a writer probably helps a lot in art-criticism, which you are occupied in?
Response.
Art-criticism differs. I don't write regular reviews of exhibitions and articles about artists since about 2003, so now I have only one form of participation in art-critical process – the reference book "United Art Rating". But since the process of ranking artists is a concentrated form of art-criticism (together with the colleagues by the Rating centre I need to take into account the exhibitions, the sales, professionalism of artists, and many other factors), that is enough for me as an art-critic.
Question.
Well, tell us, finally, about your main profession! Historian Zagraevsky, writer Zagraevsky, art-historian Zagraevsky... For most of us another phrase is familiar – painter Zagraevsky!
Response.
Yes, I also suppose that this is my main profession (although some critics and colleagues perhaps will not agree with this). I went to this profession my whole life, literally since preschool age, when firstly studied painting under my father (who, like most of graduates of Architecture Institute of his generation, was a very good draftsman), and then developed my own painting style in Abramtsevo Studio of the wonderful artist Tatiana Mavrina. So I was lucky with parents and neighbors (Mavrina and her husband, a well-known graphic artist Nikolai Kuzmin, lived in five minutes walk from our country house and were the friends of my mother).
Later I never stopped painting, and in 1998, when I began to hold exhibitions and to sell pictures, it became my main profession.
So I paint almost as long as I live in the world. Accordingly, for me to write the pictures is almost like breathing. I paint at any time, can paint almost around the clock, can do months-long breaks in the work; can feel the flow of inspiration, can feel no – and still paint: the fist moves like itself.
Question.
You've just almost quoted a poem that Bulat Okudzhava wrote about you: "When he moves on a picture his fist, God is at his assist"... How did this poem appear?
Response.
Probably it is too strong to call this a poem, it is rather a small impromptu:
Tomorrow there is one to drink Whisky with,
To remember about Eternal Arts.
That is the most Spring Naivist,
Sergey Zagraevsky that is.
When he moves on a picture his fist,
God is at his assist.
God is with him all his way.
That is the painter Sergey.
And the story of this impromptu is as follows. I studied in the same class (in school No. 40, now No. 1250) together with Okuszhava's son Anton, and my mother was friendly with Bulat Shalvovich himself. Okudzhava died in 1997, I did not hear about this impromptu in his lifetime, and in 2001. I was interviewed by the journalist of "Narodnaya Newspaper" Anatoly Ivanushkin, and he casually asked: "Are you that Zagraevsky to whom Okudzhava devoted a poem?" I was surprised, and he explained that in one of his conversations with Okudzhava they talked about "naive art", and Bulat Shalvovich read that impromptu to him. Later this journalist published that impromptu together with the interview.
Firstly I did not understand where that impromptu came from, but then decided to ask my mother. She told that in the early-mid nineties she met with Okudzhava, showed him the postcards with my paintings, he liked them, they spoke about "naive art", and he folded this impromptu. Mother did not remember that he wrote it down then – probably he just remembered it by chance through some years. Among the characteristic realities which came to this impromptu there is whiskey – indeed, at that time I started to earn good money and drank expensive whiskey, and mother, telling Okudzhava about her son, mentioned that.
Question.
Okudzhava wrote about the "naivist". So your art style is called "naivizm"?
Response.
Yes, I recently called my style just so, and the mother must have remembered it at the meeting with Okudzhava. I'll explain, where this term came from. My works do not fit formally the terms "naïve" and "primitive", because these terms are usually used for the painting of "pensioners" (as Henri Rousseau or Grandma Moses) or "non-professionals from people" (as Niko Pirosmani). For such artists the term "primitivism" is also often used, though it is not entirely true: the suffix "ism" usually means styling, and "primitivism" is more adequate for creativity of artists of other genres, who for some time wrote in characteristic "primitive" manner (as Mikhail Larionov or Joan Miró). And I'm neither a pensioner, nor a "non-professional from people", never worked in other genres, so "primitivism" also is not a suitable name for my style. Hence "naivism" appeared as a kind of an alternative to "primitivism".
Recently someone in Internet called my painting "neochildish". I think it was said as a joke, but I like this term better than "naivism". My painting style is really much closer to childish than to "pensioner".
Question.
Your painting really reminds childhood. And it is so bright, colourful, joyful... Is this the influence of Tatyana Mavrina? Her late works are indeed also bright, similar to children's...
Response.
There is no doubt about the influence of Mavrina creativity of the sixties and seventies (i.e. the exact period when she gave me lessons). But since that time about forty years passed, and my creativity remained "neochildish". So the fact is not only the influence of Mavrina.
Question.
And what else?
Response.
I think that my position in life. I believe that my duty as an artist is to make the world brighter and happier. If at least one person, who looks at my paintings, becomes more kind and pure soul, – so there is a reason for me to be a painter. Once I wrote the article "From naive art to art of soul warmth", it was written as about myself.
And, of course, my work was influenced by the fact that I was engaged in Christian theology, and therefore could not pass by the famous episode in the Gospel of Matthew: "At the same time came the disciples unto Jesus, saying, Who is the greatest in the kingdom of heaven? And Jesus called a little child unto him, and set him in the midst of them, and said, Verily I say unto you, Except ye be converted, and become as little children, ye shall not enter into the kingdom of heaven. Whosoever therefore shall humble himself as this little child, the same is greatest in the kingdom of heaven"(Matthew 18: 1-4).
Perhaps these are my favorite and most heartfelt words of the Bible. I also paid a lot of attention to them in my philosophical and theological books.
Question.
And are your photoworks somehow connected with your painting?
Response.
For me as the author – no. These are not only completely different kinds of creativity, these are quite different creative methods. As a painter I do not only portray the world around me, but put on the canvas my own internal picture of the world, so the painting appears as if out of me. But the photos appear as if from outside: I photograph what I see around, with purely aesthetic preferences. To put it simply, my paintings depict what I see, and the photos – what the camera "sees". And if to put it sleeker, the picture is the essence of eternity, and the photo is a stopped moment. In each case there is a fundamental difference.
Question.
So in the end, how many professions do yoy have?
Response.
I think today there are two: an artist and an art-critic (in the narrow sense, a historian of architecture). The rest are the retained skills, or, shall we say, occupations. Besides, some people consider that the profession is only that brings money, I do not quite agree with this, but today make living with these two main professions.
Question.
Professions, occupations, skills... In each case you have a lot of work. Do you have enough time for everything?
Response.
Not enough if to do everything simultaneously. So I have have to prioritize. And, in turn, discipline is necessary to meet the priorities. Without false modesty I can say that I have it. For example, it somehow turned out that I never in my life was late to any meeting. In Russian reality it is quite a rare feature, and sometimes I even feel myself a "black sheep" in this sense.
And I have one more feature: I can get ready for a long time, ponder for a long time, but if I have decided something – I do it quickly and intensively. For example, a picture writing may take only a day or two (not counting the necessary intervals for drying of the layers of paints), but before that the plot can be ripened for months. The same thing is with my books and articles: if the plot is thought out in all the intricacies, the actual process of writing is slightly slower than the work of a professional typist (I learned fast typing in my youth, when I reprinted the verses of poets banned in the Soviet Union). And while thinking about one thing, I can simultaneously do another. Here's a "creative method".
Question.
And do you have time for leisure?
Response.
It depends on what to undestand as leisure. Of course, there is no time for "blissful idleness", and I'm not a fan of this. And time for active recreation – sport (especially martial arts), walking in fields and forests, autocross (especially for this I have the good old car "Niva") – must always be, otherwise not only health deteriorates, but also the head ceases to think. And if there ist so firm "must", by hook or by crook I find time. Again, all depends on prioritization and discipline.
Question.
And time for hobby?
Response.
I do not like the word "hobby" – just imagine how someone tinkers something of matches. And what "hobby" can I have when I have abundance of more or less professional and favorite activities?
But I'll say frankly: I have one hobby (perhaps even love), which did not become a profession, and even can't be called "occupation". It is Russian poetry. I did not study it systematically, and do not write poetry myself, just love it and know it quite well. This love was instilled in me in childhood by my father, who was not only the restorer and architectural historian, but a literary critic. In his youth he graduated from postgraduate studies in Literary Institute and wrote a Ph. D. thesis on the poetry of Blok (you can read more abou this in my memoires about the father). Shortly before his death he returned to literary criticism and left many drafts, which I later processed, edited and published as a separate book. Probably, it had not been under my force, if not my own love for poetry. So my "hobby" has proven to be useful to perpetuate the memory of the father.
Question.
Your father was German, and the mother?
Response.
Jewish. Such nationalities of the father and the mother are written in my birth certificate. But my father was half Russian, and one of my mother's grandfathers was a Cossack from the Don. So a lot of bloods are mixed in me. For example, one of my great-great-grandfathers on my father's side was the Archimandrite of Donskoy monastery Basil Rudnev, the well-known Church writer of the late XIX – early XX century.
Question.
And to what nationality do you refer yourself?
Response.
It is impossible to refer oneself to any nationality with such abundance of national roots. I wouldn't have referred if others had not referred. And I noticed a curious pattern: for some reason "national themes" most care detractors. On an anti-Semitic basis I even was attacked by "skinheads" some years ago (I repulsed, martial arts helped, only broke a finger on one of them). And if you read about me in Internet, "jewish theme" pops up mainly when someone wants to say something negative. And one more thing: my great-grandfather and great-grandmother on the maternal line with most of their family were killed by Nazis in Odessa ghetto, and the memory of the ancestors has always been sacred for me.
And it turns out that the anti-Semites of all kinds and colors do not let me forget that I'm a Jew. But my ideological position is that I am a convinced internationalist and think that so-called "national question" is the source of endless conflicts and brings people evil.
Let us remember the words of Apostle Paul: "And have put in a new man, which is renewed in knowledge after the image of him that created him, where there is neither Greek nor Jew, circumcision nor uncircumcision, Barbarian, Scyth'i-an, bond nor free: but Christ is all, and in all" (Col. 3:10-11).
Question.
You have quoted the Bible again... And what is your attitude to religion? Only philosophical, or there is some kind of personal faith?
Response.
Probably that and another. My philosophical and theological position was expressed in my books, which I have already told about, and my personal faith... It is personal, so it is difficult to put it into words.
I try to put it briefly and generally: I believe in God and eternal life, but belong to no religious confession. But since the system of my philosophical views includes ecumenism, I relate to any confession with respect and find the common language and understanding with its representatives.
Question.
And you relate to money philosophically, too?
Response.
Yes. of course. As to all that surrounds me. And specifically in respect of money my philosophy is that it is not something self-sufficient, but only a tool.
Question.
This means that you don't like money?
Response.
The question if I like money or not, belongs to the category of questions if I like I or not, for example, the hammer, which I use to hammer a nail into the wall. The way the world works is that for the most effective hammering a nail into a wall a hammer is needed, and for the implementation of many vital plans and for ensuring of some set of life necessities money is needed. That's all. Nothing personal, as they say. I have no emotions about money. Its presence, of course, is better than its absence, but it is a truism like the favorite saying of my grandfather from Odessa Mikhail Naumovich Zagraevsky: "It is better to be rich and healthy than poor and sick".
Question.
And what is your philosophical attitude to honorary titles, awards etc.?
Response.
That everyone is equal before God and Art. That talent and fame of the artist are more important than any award. That posterity will evaluate us not by titles, but by accomplishments... All these are truisms, too.
Question.
But you're not alien for titles – Full member of Russian Academy of Arts, Honored cultural worker of Russia, Professor etc...
Response.
I'm not alien only for one reason – the titles are useful in everyday life, the more in Russian realities. For example, if you write a letter to the district administration about some housing and communal problems, it acts much more effectively if it is signed by a "honored academician".
Question.
And does philosophical view of the world exclude the presence of political position? Or you still have it? And if so, what?
Response.
My philosophical views and political position do not exclude each other, rather even help each other. I even call my articles on socio-political issues "social and philosophical publicism".
And my political position is that I support true (not declarative) democracy in combination with strong state power. The first without the second is anarchy, the second without the first is dictatorship. And appropriate political traditions are necessary to bear the optimal combination of the first and the second. In Russia, unfortunately, there are still no such traditions. However, it was impossible to work them out within short time that has passes since the fall of the USSR, so I hope that it is a matter of time.
Question.
And are occupied with politics yourself?
Response.
I have to. The post of Chairman of Artists Trade Union of Russia obliges. And it is a Russian tradition that popularity willy-nilly engages in policy.
Question.
What do you need popularity for? To sell pictures better?
Response.
Paintings sales are, of course, important for any artist, but it's not the main thing. Why an artist (as every public figure) needs popularity – it is a philosophical question. Like many of my colleagues, I have something to say to the world. And I say as much as possible – both literally and figuratively. Either by my paintings, or by my books and articles, or in lectures and interviews, or in "talk shows"... And if we say something, we usually expect to be heard. And I believe that popularity is the best way to ensure that the world hears you.
Question.
And what do you want to tell the world?
Response.
All that is necessary to slightly improve this world, to make it better, kinder, cleaner and more informed (this is also very important). It's not a huge, but an infinite field of activity.
Question.
You act so much in mass media also to make the world hear you?
Response.
Of course. Modern human, paradoxically, is more controlled psychologically than medieval. The last was to be beckoned by the paradise and intimidated by the hell, tortures and executions, and modern media can inspire almost all that is required. Can "fool", but can "lift".
Question.
But do modern media in general, in your opinion, "fool" or "lift"?
Response.
Unfortunately, so far, the tendency to "deceive" clearly prevails over the tendency to "elevate". Yes, there is a lot of very interesting and useful information, there are good movies, but when it's all punctuated by some unimaginable "spiritual gum"... I'll say so: the wave of petty-bourgeois bad taste overwhelms the weak shoots of useful information.
Question.
And what to do, in your opinion, with "spiritual gum"? To forbid?
Response.
I do not call to forbid in "Soviet style" any phenomenas of culture (only if this not a direct propaganda of extremism, violence, violation of territorial integrity of the country, etc.). I call to create optimal conditions for penetration of true culture and highest spiritual and moral values into the minds and hearts of people. This is possible primarily through mass media (although we must not forget, for example, the need to improve education system). And commercial attractivity of "pop culture" will not disappear, it is just desirable, as they say, to budge it a little bit.
Russia is a great country with great history, and positive civic tradition in it are quite strong. And this, coupled with the achievements of modern information technologies, provides rare historical opportunity to overcome the vices deeply rooted in society since the time of Prince Rurik.
Question.
They say one always has to start with himself... Did you overcome your own vices?
Response.
Probably nobody can fully overcome all vices (as you know, there are no sinless people in the world), but I will say without false modesty that I really managed to overcome some. In the nineties I drank, smoked, could play whist for many hours (sometimes all night), visited night clubs, had casual sexual connections, and even tried drugs in Amsterdam... To be frank, all this took place. But many years ago I seriously changed my life, and it was caused not only by ideological reasons: I never liked "the vicious life". The feeling of wasting time and health damaging. Even never liked to eat in restaurants: food at home is much healthier and better.
As Kornei Chukovsky said: "It is necessary to live long in Russia". The vices shorten life, health extends the life. Such a truism.
Question.
And now you are...
Response.
A staunch teetotaler, non-smoker, athlete, opponent of any gambling... Of course, I'm not an angel, but still observe at least the minimum requirements for healthy lifestyle. Some years ago even started to swim in ice holes.
Question.
You even were able to lose much weight within last years...
Response.
Yes, thirty kilos or more. Now my weight is about 90 (with the growth of 190), and I maintain it.
Question.
And what is "the secret of weight lose by Zagraevsky"?
Response.
There is no secret, even Maya Plisetskaya said gruffly, but to the point: "Gorge less!" And really, I eat everything that I ate always, no special diet, but two or three times less than before. And carefully watch the eaten amount. In the end, everything comes down to notorious discipline. Not long ago I wrote the article "Thirty simple advices for those who are inclined to corpulence and dream to get rid of excess weight".
Question.
And does discipline help to know so much to play intellectual games on TV? You even took part in the program "Jeopardy"…
Response.
I think it isn't discipline, since I never prepared specifically to such games (unlike the real masters of this). Just always liked to read and read very much. And modern electronic readers give opportunity to read anytime and anywhere, so it is not necessary to lug bulky books.
Question.
And you speak in the media on such a wide range of issues... Also reading helps?
Response.
Reading and life experience. The change of several professions also contributed to accumulation of knowledge in various fields.
Speaking in general, Michelangelo has always been my ideal: not only a great artist, but an extremely versatile personality – an architect, a sculptor, a poet...
Question.
And tell me honestly: do you consider yourself a genius, if not on the level of Michelangelo, but somewhere next to him? Or just talented?
Response.
In my opinion, the naming (and especially self-naming) a genius at life is indecent, and, thank God, I'm still alive and not going to die. And concerning talent – it is a complex question. Personally, I consider my father and mother much more talented than myself. I have other (something that my parents often missed): tenacity, efficiency, discipline, clear system of values and goals in life. And the talent... Let descendants judge.
Question.
And what is your system of values?
Response.
It is impossible to tell about this in a concise format of "frequently asked questions". As a whole, this is general gumanistic ideal (also in the spirit of Renaissance), and specific values are expressed in my philosophical-theological books and (in a more succinct and aphoristic form) – in "365 reflections about human and humanity".
Question.
Well, then tell at least about life goals...
Response.
Sorry, but let it remain my little professional secret. Let me just say that goals a large-scale and far-reaching (of course, by my own standards). God willing, I have some other decades of active life, so I'll try to make it. The main thing is not to confuse our goals and our desires. It is necessary to look real at the life.
Question.
And life plans – at least for a few next years?
Response.
As it is known, if you want to make God laugh, tell him your plans. This is possible to paraphrase: if you want to make people laugh... Or like this: if you want to laugh... So I try not to make long-term plans. I have somewhat different principle. Every day, waking up in the morning, I ask myself: "What am I going to do today?", and in the evening, before sleep, ask: "What have I done today?". And so, step for step, I'm trying to achieve my life goals. Will I achieve them or not – time will show.
Question.
Are your life goals and plans connected with Russia?
Response.
Even if I try to think in a global world scale, I do this through the prism of the country where I was born and to whose culture belong. In the end, I think in Russian...
Question.
And what other languages do you know?
Response.
Good (on the level of almost free and grammatically correct speaking and writing) – only English. I learned it in secondary school, where English was taught "deeply", plus a lot of traveling around the world.
My mother lives in Germany, I often visit her, so I speak German on medium conversational level. But I never studied this language systemically, so I have, frankly, almost no grammar. The same is with Hebrew: for some time I lived in Israel and gained a minimum conversational level.
In youth I graduated from French language courses and for some time even worked in technical translation. But I did not use this language for some last decades, so it is in deeply passive mode, although, of course, I can remember it if necessary. It's the same with Esperanto: in youth I learned it and was an active Esperantist (taught at the courses), but since that time, just did that forgot this wonderful international artificial language, which I sincerely love. Still in the same youth time I studied for about a year at the courses of Japanese and so now have some idea about this language, but nothing more.
Question.
You've traveled much around the world, and didn't think about emigration?
Response.
I thought about a lot of things in my life, and of course about emigration too. And the result of my reflections (and life observations, because I talked with a lot of compatriots abroad) was such: it is useful to emigrate only when in homeland there is an immediate threat to life or at least to freedom.
The fact is that in emigration we in each case lose many years before beginning to speak, read and write perfectly in the language of the new country, before owaising there and beginning to feel ourselves as "full" people. And the older we are in the time of emigration, the shorter is our new life "there". Will we be able to achieve "there" all that we had been able to acieve "here"? Will "there" fate be more favorable to us and our works? Unlikely. And the worst thing is to be in emigration on the bottom of life, seeing around the success of those who have only one advantage before us: they are at home.
Question.
Our "virtual interview" is coming to the end, and I would like to paint a few "touches on your psychological portrait". Please answer as briefly as possible. Who is your favorite writer?
Response.
Dostoevsky.
Question.
Favorite book?
Response.
"Idiot".
Question.
And other authors?
Response.
It is harder to say because much depends on the current mood. Perhaps at the moment – "Anna Karenina" and "Resurrection". Tolstoy was able, as no one, to present his personal ideology in a sincere, unobtrusive and objective way.
Question.
And contemporaries? Just briefly, please.
Response.
Solzhenitsyn, "Cancer ward".
Question.
And of your generation?
Response.
Perhaps, Pelevin, "Generation P".
Question.
And foreign?
Response.
Kafka – "Castle", Orwell – "1984", Marquez – "One hundred years of solitude".
Question.
Who is your favorite poet?
Response.
Pasternak. And Pushkin, Blok, Mandelstam, Tsvetaeva.
Question.
And from the contemporaries?
Response.
Voznesensky. And from the living – Alexey Tsvetkov. He emigrated in the seventies, is known little in Russia, and that is a pity.
Question.
And foreign poets?
Response.
Goethe (firstly "Faust"), Edgar Allan Poe. But in general, I'm cold for foreign poetry. In my opinion, poetry of no country can be compared with Russian. These are, apparently, features of Russian language.
Question.
Your favorite artist?
Response.
Rembrandt.
Question.
And the favorite painting?
Response.
Of quite another era. "The appearance of Christ to the people" by Alexander Ivanov. This love came from childhood, and can not be striked from my heart by any postmodernism.
Question.
What music do you love?
Response.
"Bards". First of all, of course, Okudzhava. This is also from childhood.
Question.
Favorite architectural monument?
Response.
Transfiguration Cathedral in Pereslavl-Zalessky. And Trinity Cathedral in Trinity-Sergius Lavra, and the Church of Intercession on the Nerl, and the Church of Transfiguration in Ostrov...
Question.
Who did mosty influence your personal formation, except parents?
Response.
Grandmother Lydia Petrovskaya and grandfather Moses Averbakh.
Question.
And outside the family?
Response.
Of course, Tatiana Mavrina, and also the scientific supervisor of my Ph. D. thesis Alexander Vladimirovich Efremov.
Question.
Whom do you love the most?
Response.
I love my relatives and friends, including the deceased. And like many other people, both living and dead. And love God. All these senses are, of course, different, and it is impossible to say, whom more and whom less I love. If love can be measured as "more-less", then it is not love.
Question.
Do you love your enemies, as it was commanded by Jesus Christ?
Response.
I try, but still can't. But I respect worthy enemies.
Question.
And do you have many enemies?
Response.
Like any person with an active lifestyle, I have many. But I usually remember the words from the song of Yuri Vizbor: "Thank God, we have enemies, then we also have friends".
Question.
Do you hate someone or something?
Response.
Nobody and nothing. This I was able to learn.
Question.
Are you afraid of someone or something?
Response.
Learned to be afraid of nobody and nothing even in the nineties, when was engaged in business.
Question.
What feature in people do you value most?
Response.
Probably tolerance for the opinions of others in presence of an own opinion.
Question.
What do value less of all?
Response.
Meanness in all its manifestations. I apologize for the unoriginal response.
Question.
What is your favorite saying?
Response.
Of others? I have my own 365... If from others, then, probably, "Nothing in life can knock us out of the saddle". Konstantin Simonov.
Question.
Aren't you tired?
Response.
Of our "virtual interview"? No.
Question.
But still it is time to finish. The question was about global fatigue. So to speak, of life.
Response.
When one performs his duty to people and God, there is no right even to think of such things. And then, I have a simple method of dealing with any kind of fatigue: take a walk in fresh air, and then to get enough sleep. Helps perfectly.
Question.
Were you disappointed by something in life? Please answer briefly and clearly.
Response.
If briefly and clearly, no.
Question.
Are you happy?
Response.
If briefly and clearly, yes.